According to the British newspaper The Guardian, Easter is the biggest holiday for candy consumption in the US, but it is also a widely celebrated date. Preparing in advance gives publishers the chance to leverage the season. Do you want to know the most popular Easter content to grow your traffic? Then, keep reading and find out.
Most popular searches in the US
The most popular topics are the ones related to the following keywords: Sunday, spring, egg, chocolate, bunny and hunt. "Hunt", "spring" and "egg" are also the most engaging topics. Since the Easter holidays mark the beginning of the spring and more than half of the population in America participates in egg hunting every year, It is not surprising that those are only among the most popular keywords, but also among the most engaging ones.
Also, according to Taboola, keywords that represent specific brands can drive a lot of traffic to your website too. People often look for brands such as Nestlé, Cadbury or Lindt in both the US and the UK.
Along with this detail, they also found out something really interesting. Most of the referrers to these topics were searches and shares. So, here is a tip for you: choose your keywords carefully, improve your SEO and increase your social media activity and you'll see how your traffic starts to grow.
Most popular activities
One of the easiests ways to drive more traffic to your website is by creating content about what people research, but also, about what they plan to do. The general idea is actually the same: if publishers talk about topics people are interested in, they will get more traffic. Only, there is not just one way to find out about their interests. According to Statista, last year 77% of Americans celebrated Easter.
Do you celebrate Easter?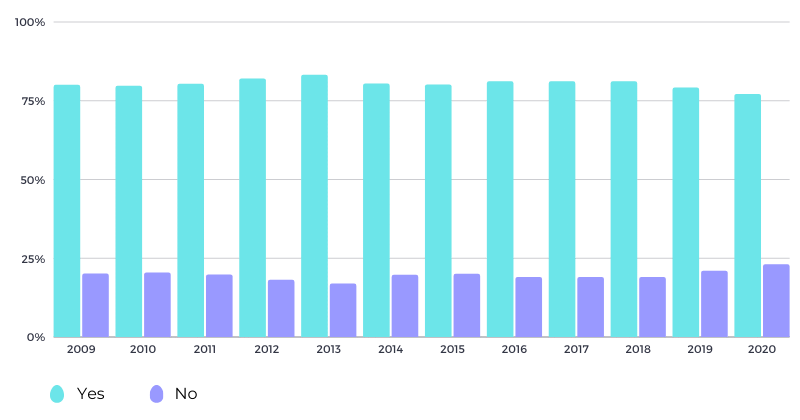 Based on the information that we have about activities and plans in the previous years, we can have a pretty good idea of their interests. The pandemic last year forced people to change plans, but not interests. Most Americans still plan to celebrate Easter with their families. Even if they have to meet virtually. Also, cooking, for instance, is still an activity that we saw on the top of the list last year.
Easter celebration plans in the United States in 2019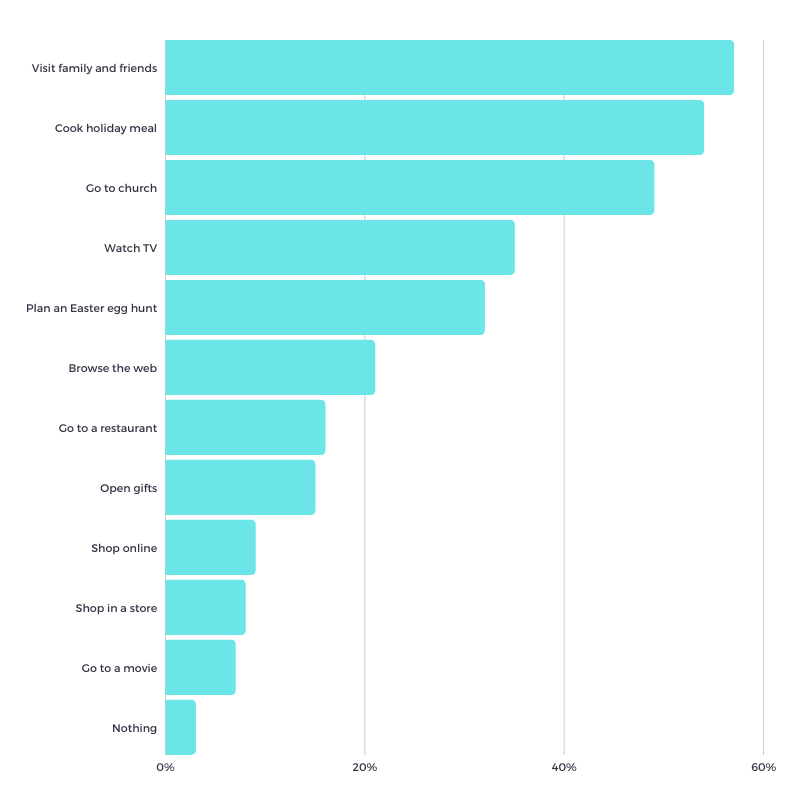 If we compare both images, we can see that although Americans modified their plans. However, their interests were still the same. Therefore, keywords like "egg hunt" or "bunny", which were among the most popular ones before the pandemic, were still relevant last year. They still are and will be. So relevant that we have adapted those topics to our new, digital reality.
Top 10 family Easter activities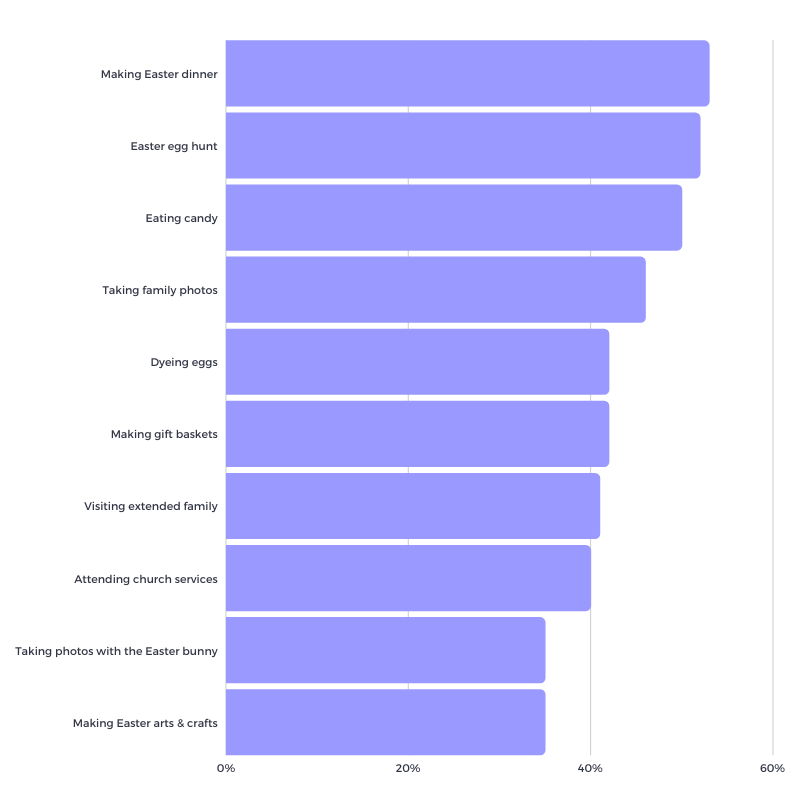 So, what do you actually want to talk about?
After analyzing searches, habits, traditions and dozens of studies and statistics, here is our shortlist for the most interesting Easter topics for publishers:
Egg hunt
Easter cooking
Egg painting and other Eater related DIY activities
How to choose the right Easter gift
How to organize the perfect virtual Easter celebration
Exploring the "how-tos" related to the most popular searches is always a good way to enrich your content production. Also Easter cooking recipies or tips to plan a virtual egg hunt will definitely meet your audience's expectations.
Sharing is caring!
What are the most popular content topics for Easter?

Mentioning and writing about topics such as Easter activities like egg hunts, cooking and DIY is always going to be a good way to increase your traffic during Easter.
How do people celebrate Easter in the US?

People mostly visit their families and cook Easter related recipes and meals. Since it's a religious holiday, going to church is one of the main activities, but many people also leverage this time to stay at home and rest.