According to the IAB/PwC U.S. Podcast Advertising Revenue Study, "2020 Podcast ad revenue is expected to increase by 14.7%". Despite Covid-19 podcasts keep growing. They are meant to hit $1 billion this year and this is great news.
Numbers were already very impressive in 2019, but right now podcast publishers have more reasons than ever to be optimistic, despite forecasts being adjusted.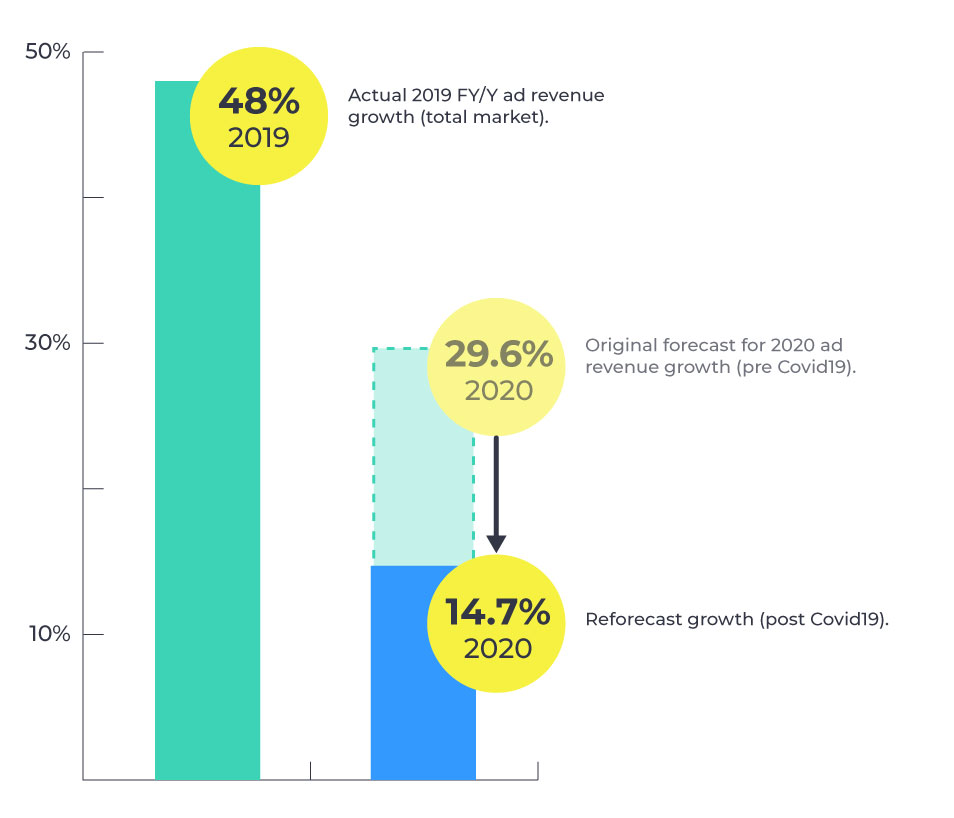 In fact, many publishers are now making considerable efforts to amplify their podcast libraries. This is the case of Spotify, initially focusing only on music. But also, of many other news publishers whose podcasts have more and more subscribers every day. Some of them have even launched new podcasts during the quarantine period.
It is also important to mention that Spotify, has not only made a huge investment to acquire popular podcasts, but it is also investing in technology. The Swedish company has recently improved Spotify Podcast Ads by adding new tech feature SAI (streaming ad insertion).
2019 highlights recap
Let's get back to the fact that 2019 was already a great year. Podcast revenue grew 48% compared to the previous year. This translates into $708.1 million. Even though 2018's numbers were not bad at all ($479.1 million), the figures look much less impressive compared to the current ones.
News was already the most popular content in terms of consumption. Also in terms of advertising. It captures 22% of revenues. Mostly coming from consumer brands (22%) and financial services (16%).
Podcast advertising revenues percentage share by campaign type (2018-2019):
The most important insights regarding ad types and formats
Even though, the report shows a lot of interesting data that provide more valuable info, we have summarized here the most relevant aspects:
Host- ads and supplied ads keep growing while announcer-read, pre-produced ads and others become less important
"Series ownership" is the pricing model that grows the most
Mid-roll generates more revenue than pre-and post-roll
00:31 – 00: 60 seconds spots are the most popular ones
There are no relevant changes affecting baked-in and dynamically inserted ads.
What's the current podcast situation?
The impact of the pandemic seems to have affected podcast advertising less than other types of advertising. Partly because it is a very flexible format, partly because it does not necessarily require a huge investment. It fairly easy to launch a podcast. Also, because it's something extremely agile and it's easy to react in real time, shifting and adapting to new circumstances does not demand extra time, effort or resources.
This is also the reason why podcasts are a great strategy for news publishers. Not to mention that news podcasts are extremely relevant right now. Apart from that genre, Financial and DTG seem to be pretty resistant to the Covid-19 impact too. Also, Health & Wellness and Home & Appliance were the most important DTC subcategories in 2019 and everything indicates that this is not going to change any time soon.
Last, but not least, although 2020's numbers are lower after adjusting the forecast, experts believe that revenues will rebound in the last 6 months of the year.
Average impact to prior forecast for 2020 podcast advertising revenue growth: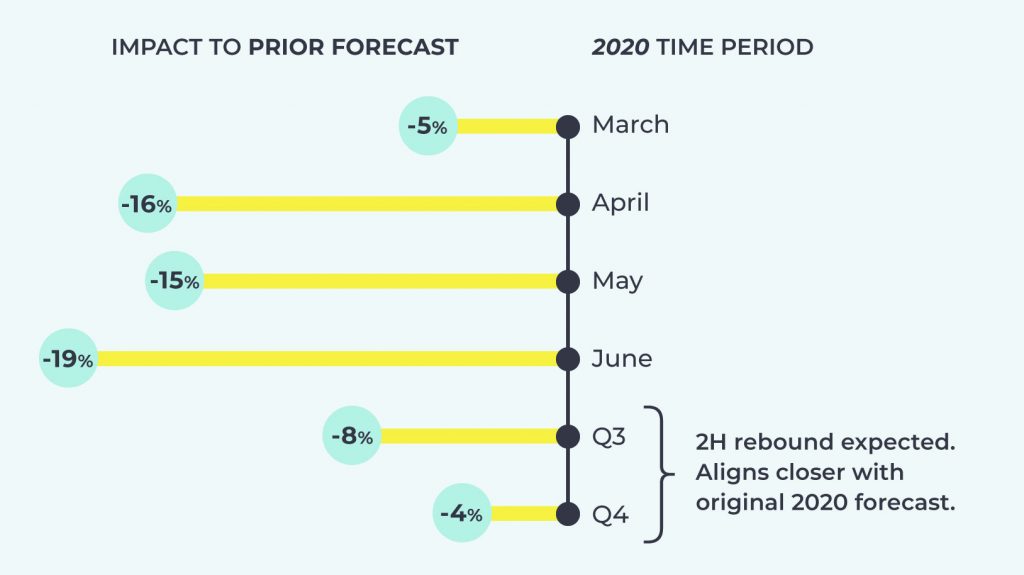 What is the evolution of podcasts in the last year?

Podcast is a medium that has been growing a lot in the last couple of years. In fact, it's expected to hit $1 billion in 2020.
How have podcasts affected advertising?

Podcasts are a good content format to use in advertising as it can help increase brand awareness and consumption.