Even though traditional display advertising is still an important part of most publishers' revenue, the need for diversification has led publishers to start working on new options for advertisers.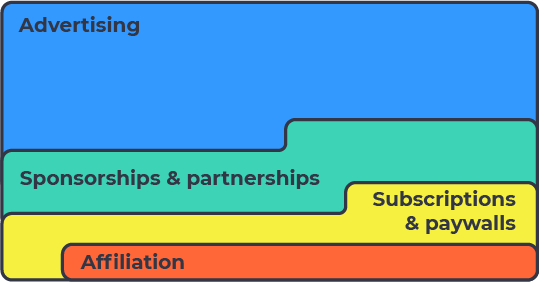 Complex audience demands, banner fatigue and more evolved advertising needs, are powerful reasons for publishers to focus more and more on products where their content is not just the perfect environment for advertisers to place their ads, but the cornerstone of the whole advertising strategy.
Advertising innovation means content innovations too
This is the case of sponsored content, that has the advantage of being in line with the editorial criteria of the publisher and attracting customers keen to engage with the product or the brand. This is the reason why branded and sponsored content ROI is usually higher than the one provided by other forms of advertising.
Apart from the many advantages that sponsored content has for advertisers, such as brand awareness, trustworthiness, relevance, visibility, etc., this type of content could become a key asset for publishers to diversify their revenue streams and even to build a solid future.
Since audiences are limited and many publishers have already hit peak paywalls and subscriptions, publishers need to work on monetization models that include advertising and content innovations in order to keep scaling. Though, the main premises for this strategy to be successful are two: a highly efficient organization of production and processing and prioritizing editorial content, because it's the association to specific journalistic standards that makes sponsored content work. High-quality content means authority, trust, value.

What this means for publishers
On the one hand, this kind of production is a more complex and refined alternative that blends content creation with sponsor support and opens the door for publishers to keep developing this cooperation and potentially ally with companies to fund important stories.
On the other hand, these products combine content creation, graphic design and media visibility in one unique offer that requires a bigger effort from publishers in terms of assets, coordination and time. While editorial teams have to work on new content, graphic designers have to build new assets that merge with the look and feel of their own media.
The counterpoint of a higher investment is a higher barrier to market entry in terms of price. This is why automating the whole process from content creation to campaign rollout can be key. It would not only save both advertisers and publishers a considerable amount of time and money, but also, would make it easier for advertisers to find and purchase publishers' products just by browsing options on a single self-serve platform.
Though, key strategies require key partners. Have you found yours?